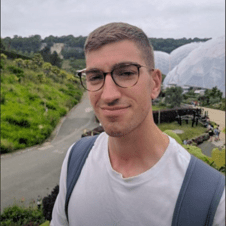 Frank Frayne (Tank)
Studio/Account executive – Operations
I'm fresh out of university, having recently completed a degree in medical pharmacology at Cardiff Uni where I amassed experience in a huge array of therapy areas.
During this time, I've had the opportunity to dabble in academia, working with Cardiff Uni's Institute of Infection & Immunity to co-author papers on antimicrobial resistance.
As part of my degree, I developed a knack for being able to create scientific content for a variety of audiences that was clear, concise and engaging. I got a real kick out of doing this, as I felt that the world of academia is far too often basking in its own bubble of complex and hard-to-digest information. Bridging the knowledge gap is especially relevant today, given the large amounts of noisy misinformation shrouding the pandemic we see today.
Upon reaching the conclusion that the world needed a wee bit more communication, I decided to delve into the field of med comms where I've been loving working as a referencing monster since starting in August.
Most of the time you'll find me in the deepest depths of Cornwall, walking and running through the countryside, whilst trying to become the next Roberto Carlos every Monday evening.