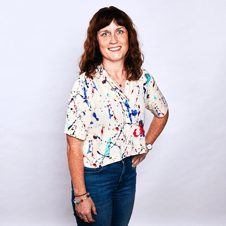 Dr Kelly Farrell (K-Faz)
Principal Writing Monster – Medical Writing
Biology was one of my favourite subjects at school and led me down a long path experiencing the highs and lows of academia, where I eventually ended up working as a post-doctoral researcher in Manchester. I was struggling to visualise a long-term career for myself in this setting, so sought out entry-level jobs in medical writing.
Fast forward 11 years and my passion for wordsmithing, grammar pedantry, and all things scientific and strategic hasn't waned. I love learning about new therapies, creating impactful content and interrogating the brief to do the best job possible. Saying that, I still can't seem to articulate to friends and family what I do for a living. I don't think there is one single definition for a medical writer – our skills are countless. And anyhow, it makes me feel like Chandler Bing, which, upon reflection, is disappointing…
Ross was always my favourite ('PIVOTTTT'!).